This year is flying by! Can you believe we are halfway through the year already?
The world has shifted a great deal in the last few months with the war in Ukraine accounting for most of this shift. Our work in farming is affected by these global events as the cost of fuel, fertilizer and food has gone up considerably in the last six months. 
I was having lunch with a friend of mine last week and our bill came to ZAR325 ($20). He quipped that this (R350) is almost what someone on the government's Social Relief of Distress Grant gets to live on for an entire month.
The rising cost of food puts an extra emphasis on the need for investment in agriculture at local level.
The work of facilitating funding into farming has never been more urgent as democracy and global peace is at risk if populations cannot afford food.
We have been hard at working doing our bit towards creating wealth and health through food production. Your partnership helps us to make a dent on inequality one asset at a time.
This is what we have been up to:
Funding Quality Farmers

We are proud to say we have eliminated all backlog on all our products, especially cattle. This we have done while simultaneously ensuring we are bringing good farmers onto the platform. In 2020, during the height of COVID-19, we have a batch of poorly vetted farmers joining our ranks. 
These resulted in slow payments when payments were due in late 2021, thus affecting our ability to collect on time from the farmer to pay you the investor on time. We have learnt from this and have tightened our farmer selection and management criteria tremendously.
Appointment Farmer Management Companies

We have appointed five farmer management companies (FMCs) whose primary tasks are to recruit the best farmers in an area and manage them throughout the investment period.
| | | | |
| --- | --- | --- | --- |
| Name | Company  | Commodity  | Area |
| David Whitfield | Agri QBE | Cattle  | Free State / KZN |
| Gene Likhanya | Madimbo Consulting | Cattle / Macadamia  | Limpopo /Mpumalanga |
| Lesika Matlou | Communal Farmers Market | Cattle | North West / Limpopo |
| Sivuyile Mngonyama | Self  | Cattle | Umzimkhulu, KZN |
| Thabiso Mbatha | Ukuphila Agri  | Crops | KZN |

The strength of these and other partnerships we are creating lies in the proximity to the farmers. The FMCs can perform site visits on the farmers at least once a month and have deep expertise in their respective fields to be a source of value to the farmer and to your investment.
New Partner Farmer – Gerbas Voerklare
We are proud to introduce a new partner, Gerbas Voerklare led by Geraldine and Basie Jordaan. They farm in Heidelberg, Gauteng a mere forty-five minutes from our office in Johannesburg and at full capacity can handle two thousand head of cattle. 
The farm has an ample supply of food for cattle in the form of silage (crushed maize and stocks). This ensures that cattle that arrive thin and lean are ready for market as beautiful cattle ready for the market.
The farm will be host to our next farmers day on Saturday 23 July 2022. We will send a formal invitation shortly.
Update to our terms and conditions
We will be updating our terms and conditions effective 1 July 2022. We will send a separate communication with a summary of the important changes.
New Improved Platform
We have been hard at work building our brand-new platform which will replace the current "Farmbook" system. We are at the stage where we are moving data between the two systems to ensure that when the changeover happens all goes smoothly.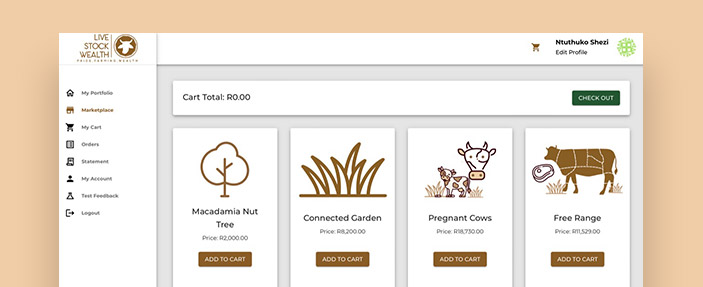 We are planning our go-live date 8 July 2022.
The system will have additional security measures to safeguard your account. It will be much easier to use than the current site as it is built on the latest technology "stack" as the techies call it. It will introduce the debit order payment method and see the retirement of credit card as a payment method. This is due to fees eating up the return on investment.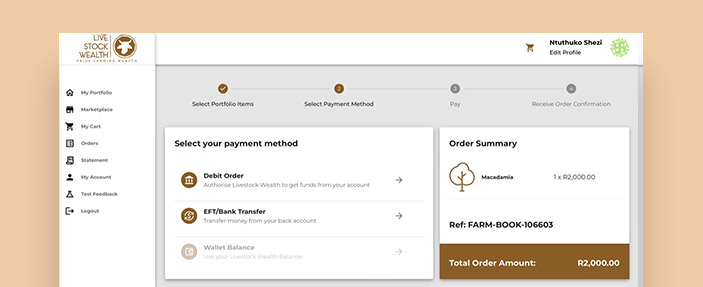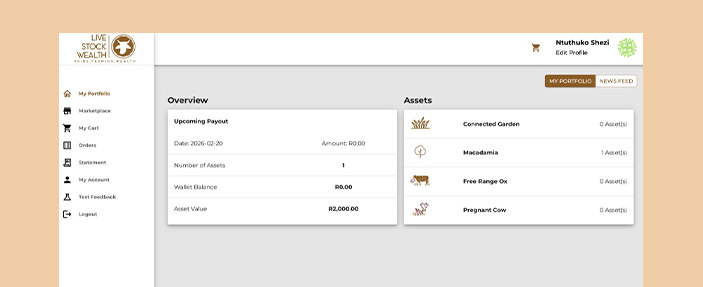 We are opening the opportunity for pioneers who want to be the first to test-drive the new platform to let us know by sending us an email.
We will then send you the login details and instructions on how to provide feedback.
Yours in wealth,
Shezi