We are extremely humbled to have our founder; Ntuthuko Shezi, named IT Personality of the Year at the 2020 IITPSA President's Awards!
The 2020 awards, which were delayed by COVID-19, were themed "Excellence in Adversity" and celebrate IT professionals who excelled during a particularly challenging year.
In his acceptance speech, Shezi said: "I am so pleased about this award. I am totally honoured. I am pleased with the work that we have done in bringing agriculture to everyone. It's been six years of hard work and it's finally paying off; and the recognition from yourselves is a cherry on top. It makes all our sleepless nights worthwhile.
"My staff have carried the company so much; so thank you team; this is for you and the work that you are doing and the world is starting to see. Most importantly, my wife as well, who has had to put up with all my late nights."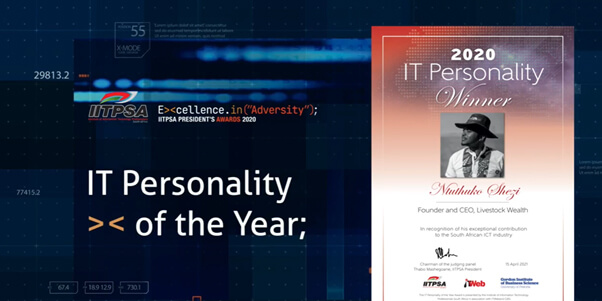 Read more at https://www.iitpsa.org.za/iitpsa-announces-2020s-leading-lights-at-virtual-presidents-awards-event/